In a week when the UN criticised Brunei for planning to stone gays to death and the first prosecutions in Uganda were announced since it introduced new draconian laws against homosexuality, the very public spat between some members of the transgender community in the US and the TV show RuPaul's Drag Race may seem trivial in comparison; nonetheless the use of appropriate labels, language and political correctness has been a continuing thorny debate in the LGBTQI community and the Women's Movement since the dawn of consciousness.
I'm not going to get drawn into commenting in detail on the specifics of the rights and wrongs of using the words shemale and tranny – which bizarrely went so far as getting transgender rockstar Jayne County banned from Facebook in the middle of the wider kerfuffle, as language use varies between the US and Europe and I may be missing local nuances. But I will say that I can remember a time when I would have been deeply offended by someone calling me queer, a word which I now feel is an entirely comfortable description of where I stand in relation to the conventions and politics of  a wider heteronormative society, which just goes to show that the use and power of language can change.
Of course, there's an unanswerable case for condemning blatant homophobia, transphobia, sexism and racism (anything I missed?) perpetrated by people who "aren't us", and  rigorously questioning our own use of stereotypes and vocabulary which we regard as otherwise unacceptable; but there are times when individually and collectively we need to lighten up, recognise irony, and most importantly, explore the overall underlying intention of what's going on. Responses to the latest controversy have caused uproar amongst those who would speak for sections of the the transgender community in the US, and I leave you to make your own judgement.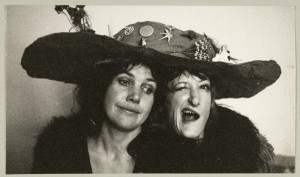 The other day, in a separate and happily less-combative breakfast-table discussion around transgender issues (yes, dear reader, I have them) with appropriately-empowered participants, I was reminded of how things were in the mid-70s when the sadly-missed Pat Van Twest and Jackie Thrupp were at the heart of the ground-breaking British women's theatre group Sistershow (which I briefly joined – at Jackie's insistence – appearing as a bored bearded drag queen in a bad wig and floppy hat, looking not unlike a tacky version of Austria's Eurovision contender Conchita Wurst).  Jackie and Pat were acutely aware of the risks of taking ourselves too seriously and thereby missing the point of what we are really seeking to achieve.
Here's Pat talking about some of their early activity inspired by their concerns about the way the Women's Movement was developing; it made me laugh, and realise how just much they influenced my outlook on life, for which I am forever grateful.